Springfield Hellcat и Springfield Hellcat OSP пистолет
More on the new 11+1 Springfield Armory Hellcat Micro-compact
09/30/19 1:23 AM | by Chris Eger
The 4-inch high Hellcat offers an 11+1 9mm capacity in a flush-fit magazine. (Photo: Springfield Armory)
Touted with the tagline that, "No other 9mm carries more rounds in such a small package," Springfield Armory's new Hellcat pistol is getting a lot of buzz.
Introduced last Wednesday, the new micro-compact is the Illinois-based company's answer to Sig Sauer's P365 series. Using a 3-inch hammer-forged barrel– which translates to a 6-inch overall length while standing just 4-inches high– the 18.3-ounce Hellcat offers an 11+1 capacity in a flush-fit magazine. This can be stretched to 13+1 with an extended mag that bumps height to 4.5-inches.
"This is the first step in a new direction for Springfield Armory polymer handguns and embodies our disciplined approach to modern firearms design," said Dennis Reese, CEO of Springfield Armory. "Every detail of the Hellcat has been shaped by a singular mission — to deliver the definitive concealed carry handgun."
Offered in both a standard and OSP (Optical Sight Pistol) configuration, the latter uses a milled slide intended for micro red dots such as the JP Enterprises JPoint and Shield RMSc– the latter shown mounted (Photo: Springfield Armory)
The Hellcat has a high visibility tritium & luminescent front sight paired with a U-Dot rear sight for easy target acquisition in either the standard or OSP models. The sights are iron, not plastic. (Photo: Springfield Armory)
MSRP for the Hellcat is expected to be in the $569 area, with the OSP model going about $30 more and both pistols shipping soon. Other features include rear, front, and top slide serrations, an accessory rail, a flat nickel boron coated trigger, loaded chamber indicator and reversible mag release. Already, Viridian has announced they are making a compatible E-series red laser to fit the gun's short accessory rail while Crossbreed has announced more than a half dozen companion holsters for both IWB and OWB carry.
Eric Poole with Guns and Ammo and David Faubion with Handguns Magazine has a closer look at the Hellcat, below while Mike Detty, at Personal Defense World, gives his take on the new contender in the micro-compact class in the second video.
Springfield Hellcat: The Smallest, Highest Capacity Polymer 9mm Ever
Concealability, accuracy, and an 11+1 or 13+1 capacity immediately put the all-new Springfield Hellcat into the 'best concealed carry weapon' conversation.
Mike Detty
The Springfield Hellcat is a serious step forward in concealed carry weaponry. For most of us the selection of a concealed carry gun is an exercise in compromise. Size, weight and caliber are often involved in the self-negotiation process for handgun selection. Owners want something that is comfortable for all day wear, possesses the reliability and accuracy needed for defense, and is readily concealable.
Modern-Day SAINT: Hitting the Range With Springfield's First AR
Far too often we either leave our carry gun at home or downsize to an ineffective calibered, mini-gun. Springfield Armory's new Hellcat is one gun that should meet everyone's CCW needs without sacrifice. Watch my exclusive Hellcat range test over at PersonalDefenseWorld.com.
Springfield Hellcat First Look
Boasting an impressive 11+1 capacity with its flush-fit magazine, or 13+1 with its extended magazine, the Hellcat claims to be the highest capacity 9mm micro-compact in the world. The polymer-framed, striker-fired gun has an overall length of just 6 inches. It is 4 inches tall, just an inch thick, and weighs less than 19 ounces unloaded. It's a gun so small and light that it can be concealed easily and worn comfortably without effort.
I received the Optical Sight Pistol (OSP) version of the Hellcat, however, a standard non-optic gun is also available. The OSP slide is cut for a micro red-dot. Springfield recommends the JP Enterprises JPoint and the Shield RMSc, which is exactly what I outfitted it with. The OSP model retails for just $30 more than the standard Hellcat.
The 4 MOA red dot is set up so that you can co-witness the gun with iron sights. The rear sight has a generous "U"" notch with a white outline around it. Meanwhile, the front sight has a high-visibility tritium lamp encircled by a luminescent yellow/green ring for quick acquisition during daylight. The deep notch "U" rear sight makes sight alignment as easy as putting the ball (front sight) in the bucket. The rear sight also has a tactical rack design for one-handed slide manipulation.
Ergonomics
You're probably wondering if such a diminutive gun can be comfortable enough to shoot effectively. The answer is a resounding "yes" thanks to the Hellcat's excellent ergonomics. Springfield engineers designed the polymer frame with a high beavertail to protect the shooter's hand and promote the highest hold possible to help negate muzzle flip. The trigger guard is also dramatically undercut where it meets the frame for the same reason.
The Hellcat uses Springfield Armory's Adaptive Grip Texture for a secure firing grip and there are index points on both sides of the frame for the trigger finger. To make the gun comfortable when firing, its backstrap is as wide as the gun is thick to spread recoil over a broader area. All of the Hellcat's external controls — the slide release, take down lever and reversible magazine release — are low profile for deep concealment comfort. The short dust cover features a rail for a mini light or laser.
Springfield Armory uses a dual recoil spring system to give the gun the spring mass needed for reliable cycling. There's a large diameter spring wrapped around a cap that slides over a more tightly wound spring wrapped around the recoil spring guide. There is no spring-to-spring contact with this design and its captured spring design makes disassembly and reassembly easy. The front of the recoil spring guide rod extends past the muzzle and acts as a stand-off device so the slide won't move out of battery if you shove the muzzle against a hard surface.
Polymer Build
Like most polymer-framed guns, the Hellcat uses a steel subframe pinned into the polymer grip frame. The steel subframe possesses the rails the slide rides on so there is no steel-to-plastic contact. Springfield Armory melonites the steel internals for increased surface hardness and corrosion resistance. The gun possesses a mechanical block to the striker to prevent inertia type discharges. The trigger also has a blade that must be depressed for the gun to fire. Our test gun's trigger broke with 5.5 pounds of pressure.
Springfield machines its slides from billet and serializes them to the gun; same goes for the barrel. Both parts are given a Melonite finish for corrosion resistance. The 3-inch barrel is fully supported and there is a circular port cut into the hood to give the shooter an idea if the chamber is loaded.
Springfield Hellcat Testing
Because of the Hellcat's short barrel and sight radius, I tested its accuracy at 15 yards. Shooting from a seated rest I was able to center the 4 MOA red dot in the bullseye of my target while adding pressure to the trigger to break the shot. My enthusiasm for the Hellcat grew immensely after walking downrange to view my first five-shot group. It measured just three-quarters of a inch. In fact, for the five ammunitions I tested, the Hellcat all groups averaged just .80 inches. Yeah, quite impressive.
Springfield Hellcat и Springfield Hellcat OSP пистолет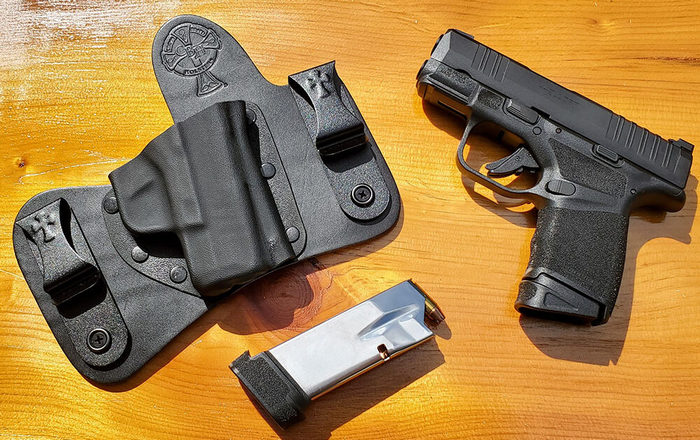 Springfield Armory Hellcat
Коли у минулому році компанія SIG Sauer випустила свій пістолет P365, вона буквально підірвала ринок – ніхто не міг зрозуміти, як можна було втиснути понад 10 набоїв у такий невеличкий пістолет.
Проте нещодавно компанія Springfield Armory випустила свого конкурента для цього надпопулярного пістолета – Hellcat, який вміщує навіть більше набоїв.
Springfield Armory Hellcat – це пістолет класу мікро-компакт під набій 9 мм, загальна довжина якого складає 152 мм, висота 101 мм, а ширина – 25 мм. Пістолет має 3-дюймовий ствол та важить всього 518 гр.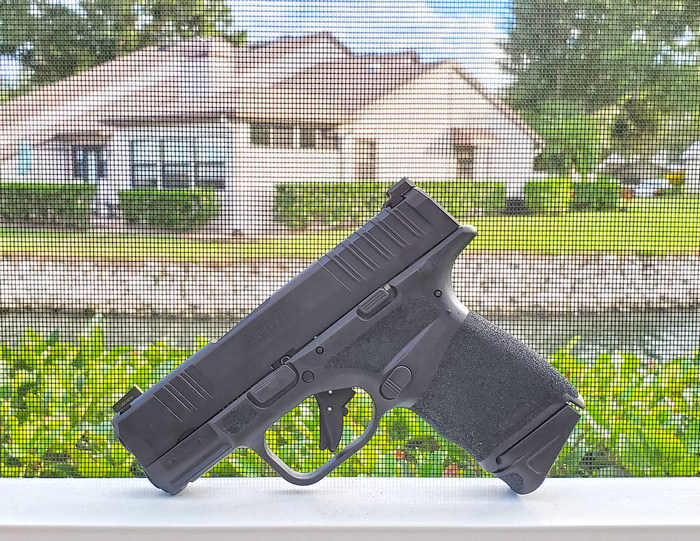 Springfield Armory Hellcat
Прицільні пристосування – механічні, з тритієвою мушкою та тактичним ціликом, але є і модель з пластиною під коліматорний приціл, які зараз дуже популярні. У комплекті з пістолетом йде два магазини – один на 11 набоїв, другий – на 13. Є також додаткова кришка, яка не має виступу під мізинець, але й не виступає з руків'я.
Особливо необхідно виділити текстуру руків'я – воно має пірамідальні виступи різної висоти – високі мають згладжену форму, а низькі – гостру. Завдяки цьому при несильному хваті руків'я дуже комфортне, а при сильному – воно дуже міцно чіпляється об долоні. Тому якщо у вас потіють руки – таке руків'я взагалі нівелює цю проблему.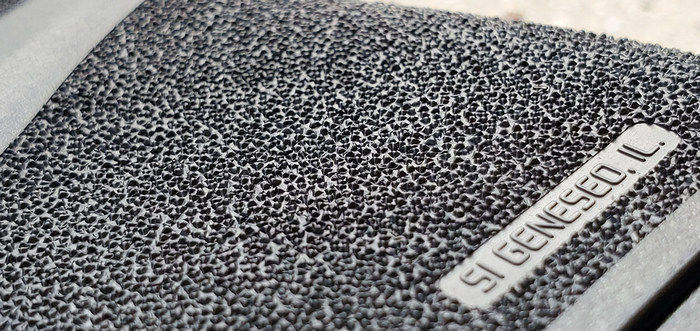 Текстура руків'я складається з пірамідальних виступів різної висоти.
Щодо надійності зброї, то у автора не виникло абсолютно ніяких проблем – діставши пістолет з коробки, він зробив 300 пострілів без жодної відмови. Після цього він розібрав пістолет, почистив і змазав його, і знову зробив 250 пострілів – безвідмовно.
Springfield Armory Hellcat автору сподобався настільки, що він замінив його попередній пістолет для повсякденного прихованого носіння, який займав своє місце 4 роки.
Springfield Armory Releases Hellcat